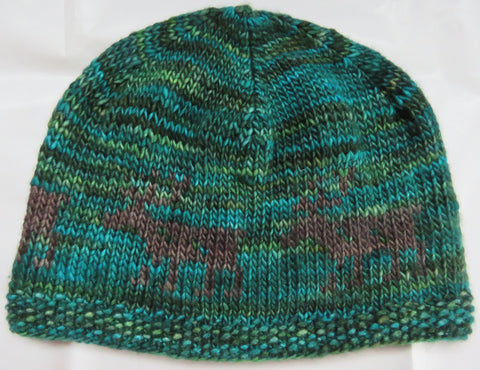 Pattern - Hat - Norwegian Reindeer Hat in Merino DK Single Ply - 1011
This Pattern is written for the Merino DK Single Ply yarn.
But you can also use our Fine Merino & Mulberry Silk, or any Dk or Light DK Weight Yarn.
HAT SIZE: 22" around head & 16" bottom edge over crown of head to bottom edge covering the ears.
NOTE: You can change hat size: by either adding or decreasing sts between the Norwegian Reindeers.

Plus if you want it taller add rounds before you start the decreases. You want to keep the Norwegian Reindeers at the bottom as this will give you double layer by the ears, where you need the warmth the most.
You need: US Size 6 Double Pointed Needles and
US Size 5 Circular Needles - 16" length &
US Size 6 Circular Needles - 24" length
Do NOT use a shorter Circular Needles length or your hat will be too small. 
Marker.
2 skeins of the Merino DK Single Ply in 2 different colors.
Pay attention to the variegated colors.  
This Pattern is a digital down load
---
We Also Recommend